"Legends of the Sea with Bill Schustik" coming to UUCS Oct. 12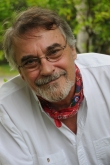 Musician, historian, and folklorist Bill Schustik will perform a concert of sea shanties in "Legends of the Sea," Sunday, October 12, 4 p.m., at UUCS. Proceeds from the concert will benefit the All Faiths Food Bank's BackPack Kids Program, which provides meals for underprivileged children. Read more...
Mark your calendars for the Church Fall Dinner on Oct 18
You won't want to miss the 2014 Fall Dinner. Mark your calendars now for Saturday, Oct 18th. Cocktails begin at 5:00; dinner at 6:00 pm. The cost is $20 per person. Ticket sales begin Sept 21.
Welcome to College Students

We welcome college students to attend our Sunday Forum and Sermon services. Also, New College Unitarian Universalists holds small group meetings on Sunday nights at 9 PM.
Read more...
Have a bicycle to donate to a worthy cause?
El Parent will pick up your working bicycle and wheel it over to Turning Points to give homeless people a transportation option. Bikes needing minor repair are OK, too. Contact El at 201-6201 or elparentjekp@gmail.com.
Participate in our Dialog on Religious Literacy
Advocates for Religious Literacy dialog each Wednesday from 4:00 to 6:00 pm in the West Wing. We are currently discussing the pros and cons of atheistic religion. All are welcome!
Read more...
Marriage Equality Comes to Florida

The UU Church of Sarasota opens its doors, arms, and hearts to gay couples seeking to marry. Numerous lawsuits are pending, so check the news often as the situation changes. We have plans in place to help people get married with very short notice.
Read more...